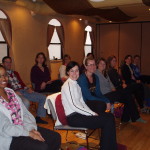 Debra teaches monthly meditation workshops in Chicago on a variety of topics and has now added meditation for Business Leaders events. In addition to in-person workshops and business events she also offers tele-seminars you can attend on the phone from the comfort of your own home.
For details and information about workshops Click the links below:
Upcoming Events
Meditation for Empaths
Info coming soon!
 

 

If you would like to be notified of future meditation workshops
AND receive a Free Stress Reducing Meditation
Sign up for my awesome Newsletter!
Thanks for the meditation class last night. I wasn't sure what to make of the whole experience  after we left. This morning I woke up feeling more refreshed and alert than I had in a long time!!! Thanks! Halfway through the night, I couldn't tell if I was asleep or had actually woken up, I had the distinct feeling that I had taken my ex-husband's energy out of my sacred space and there was a "bouncer" at the door – ha! (our divorce was finalized on 5/10, a mere week ago). Anyway, just thought I'd reach out to give gratitude."~Melissa